Bexten's Backwoods BBQ
Our rubs feature our proprietary blend of spices and herbs and are of unsurpassed quality. And like moonshine, they are made in very small batches so you can be assured you are purchasing the freshest and most flavorful product available.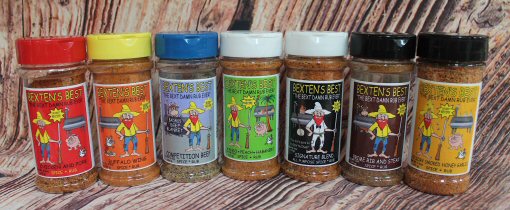 There are absolutely no MSG or anti-caking agents in any of our rubs. (Excluding Signature Blend)
Our rubs all have a bold distinctive flavor and are guaranteed to leave your palette with an amazing taste sensation.
Besides having a flavor that is second to none, you will find that your food is also left with an amazing color.
To be direct, our rubs are incredible and you'll be truly blown away by the amazing flavor!
All of our rubs include special ingredients that not only enhance the flavor of your favorite home cookin', but also create a heavenly juice that can be savored with your homemade vittles.
Like dippin' your chips in salsa, you'll find yourself wanting to dip your vittles in the well-seasoned juices spilling off your favorite grub!