Hello fellow BBQ lovers,

My name is Jeff Bexten. I am the founder/owner of Bexten's Backwoods BBQ, and pioneer of Bexten's Best secret recipes.
I'm just a good ol' country boy trying to enjoy life and make a decent living. I live in a very modest house that sits on a 6 acre wooded lot. I enjoy hunting, campfires, four wheeling, beer, bourbon and BBQ!!
There are many people who have inspired me in my life. At the top of the list would be my parents. Their love and support and hard work to raise, shelter, educate, push and nurture me is commendable.
My children, Danielle, Derek, and Arielle have also inspired me by being the best they can be and accepting their challenges and difficulties head on, then kicking butt to beat the odds. I love them all dearly.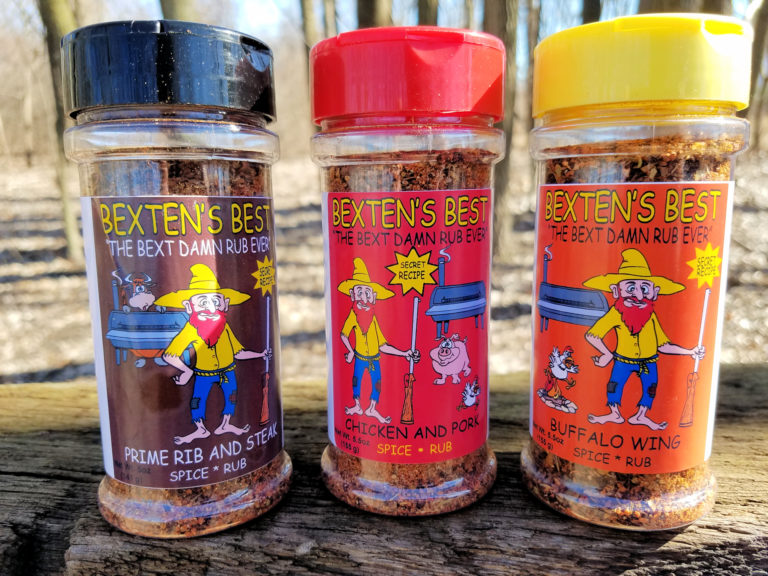 My inspiration for creating a rub came from an elderly couple whom I often visited as a child. She was a small frail woman who could always be found in the kitchen or in the barnyard feeding the chickens. She was in her seventies at the time. Her husband was of about the same age and a full time farmer. I can still remember visiting and watching her cook on a cast iron stove that appeared to be very old. I found this to be fascinating. The food she served was always perfect and the flavor was unlike anything my palette had ever experienced. Her cooking was very unique, complex and simply delicious! It had that homemade "backwoods flavor".
She used nothing but the best natural ingredients and most importantly, never worried about how many calories the recipe had or if she was serving something that may not be healthy for you. She was only concerned about serving a dish that was incredibly delicious.
Her husband had a bad limp and walked with a stick cane. In the evening, he could be found sitting in a rickety wooden chair near the creek in back of their farmhouse. The wooded lot he faced provided for a beautiful backdrop. He'd usually have a jug of moonshine at his feet and was more often than not smoking a cigar. I've always wanted to recreate a small portion of my childhood memories in a way that I could share with others.
This memory is the inspiration for Bexten's Best Rubs. We all know that nobody invites friends over to microwave. The best times are had at an old fashioned BBQ on a beautiful summer day. Sharing good times with friends and family can create memories that will last a lifetime. So why not create some memories and have a BBQ? Go ahead, cook some great homemade food coated with one of my rubs.
Share some food with your company that is boasting with flavor like I once enjoyed coming off the cast iron stove. I wanted a rub that was so amazing it would make a vegetarian want to eat meat again.
The loving elderly couple I knew as a young boy made me a believer in home cooking. They showed me that the best food in the world is not found in a restaurant, but rather right in your own kitchen or backyard. I learned at a young age that the key to great food is good old fashioned home cooking.
Order some of my rubs, invite family and friends over and have a BBQ! Relax, chat and enjoy the amazing flavor of my rubs while you treat your taste buds to that homemade "backwoods flavor". It's times like these that make for memories that will last a lifetime! You're going to enjoy Bexten's Best Rubs. "The Bext damn rub ever"